Creating responsible jewelry
Shinera Jewelry is committed to sustainability and environment protection. Brands are now searching for transparency, sustainability and ethical manufacturing in the factories they work or partner with. We commit to the standards set below:
Our product
No excess - Every step in the production process is done in house, allowing us to handcraft jewelry to order. That means we can listen to demand and avoid excess production.
Long-lasting - Shinera targets to create high-quality jewelry that lasts for a long time and can be handed down through generations. For this, we focus on skilled manufacturing and apply a strict QC process to products. By maximizing the life of every piece, we believe this is another step towards a circular economy .​
Toxic-free - Shinera restricts hazardous substances such as nickel, lead, and cadmium in all parts of jewelry that could reasonably be accessed by the end consumers, and ultimately reduces the amount of harmful chemicals in the environment. We strictly follow the European Union's REACH regulations.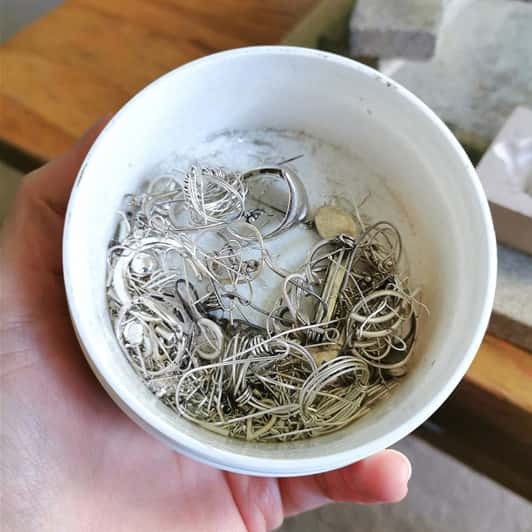 Our commitment to the environment
Recycled first - Shinera pledges to recycle or reuse whenever possible. We collect and recycle metal scrap and particles from the manufacturing process.
We also runs a "Silver Buy-Back" program in which we recycle unused sterling silver jewelry shipped from customers into new pieces.
Currently, customers can choose between regular and certified recycled silver in their jewelry pieces. A recycled silver hallmark will be stamped on each piece to represent the certified recycled silver used.
We aim to use reusable and recyclable packaging in all of our packaging. Currently 100% of our packaging is recyclable paper and/or reusable linen bag. We encourage our customers to use materials that are either recyclable, made from recycled materials, or is biodegradable for their packaging while reducing plastic packaging.
Our stones & materials
Local - We prioritize materials that are sourced locally to support domestic production.
Ethical - We strictly evaluate and only work with long-term trusted suppliers who guarantee ethical sources of our materials including components, chains, and stones.
Lab-grown first - We use lab-grown stones like Cubic Zirconias and Nano Gems as much as possible since they are fully traceable and offer a similar look to mined gemstones. We also work with natural stones on request but keep them at a minimum.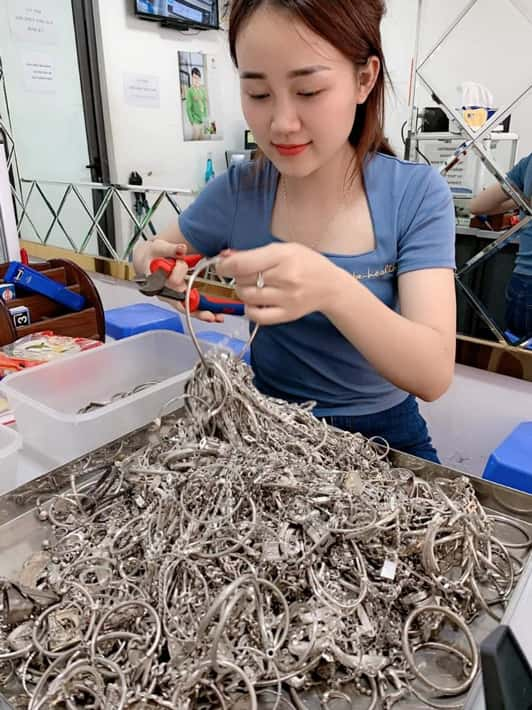 Our people
We treasure our people at Shinera. Along with our culture of innovation, technology, and experimentation, we create a working environment that is healthy, transparent and full of joy. Furthermore, we contribute to our own community creating career opportunities for locals as well as aids in ameliorating our local economy.
Work benefits - Our artisans share the same work benefits as our office staff: they work 8 hours a day with a 1.5-hour lunch break, 5.5 days a week. They receive 12 days paid annual leave, with 11 days of paid public holidays, 1.5-3x overtime pay, end of year bonus, health insurance and social security benefits. Free training programs are also provided to help them truly master their craft.
Fair and safe - Shinera ensures all workers are being treated fairly. We pay a fair wage, maintain working safety, and ensure no child labor is involved in any process of making jewelry. In addition, we run a transparent working environment where all members within the organization are encouraged to speak out, ask questions and learn about all aspects of the company. Regarding periodic evaluation and promotion, we have one mutual scheme that applied for all.
Empowering women - At Shinera, we strive towards gender equality. About 80% of our people are women including key management positions in the organization. Women are paid fairly, respected, and empowered in our workplace.